SPACES coral reef surveys have contributed to an international picture of how reefs might be able to grow to keep up with sea-level rise, recently published in Nature.
The growth of coral reefs is strongly influenced by the amount and types of coral living on the reef surface, but across both regions this growth is now being hampered by combinations of coral disease, deteriorating water quality and fishing pressure, along with severe impacts from "coral bleaching" caused by climate change. By counting the organisms responsible for building up and eroding reefs, SPACES team members Chris Perry and Fraser Januchowski-Hartley have been able to calculate the 'carbonate budget' and estimate how quickly reefs can grow towards the surface (the 'accretion rate').
In the figure below, the Mozambican (17) and Kenyan (18) SPACES sites can be seen in comparison to reefs from around the Indian ocean and Western Atlantic. The poorest reefs in both countries have a zero or even negative growth rate, while some of best reefs show some the highest accretion rates measured in the Indian Ocean…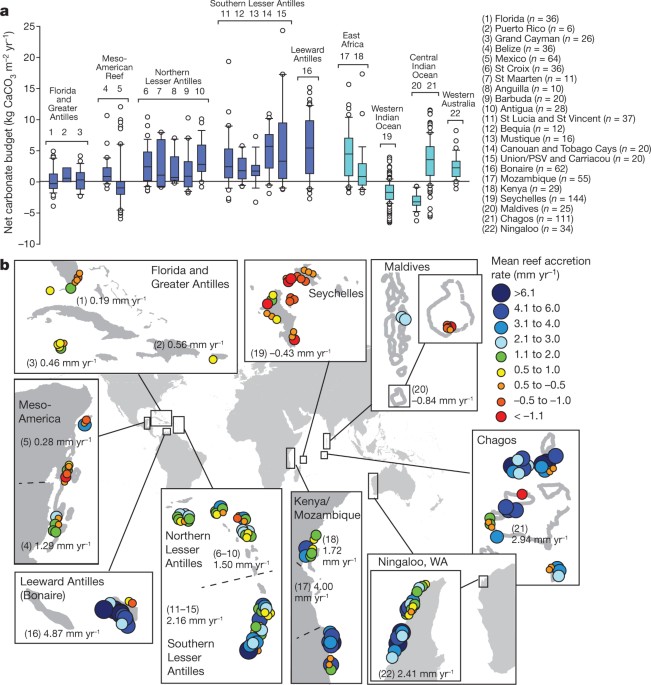 Meanwhile, rates of sea-level rise are increasing – and the results suggest the most reefs will be unable to keep up. As a result, water depths above most reefs are projected to increase rapidly through this century. This figure from the paper shows expected deepening of water over the reefs under more moderate (RCP4.5) and more severe (RCP4.5) scenarios of climate change.
Like most sites in the dataset, the SPACES sites mostly show a deepening, with only a few reefs in each country projected to be able to keep up with sea-level rise even under modest projections. The poorest reefs under the higher climate change scenarios are projected to become up to 80cm deeper.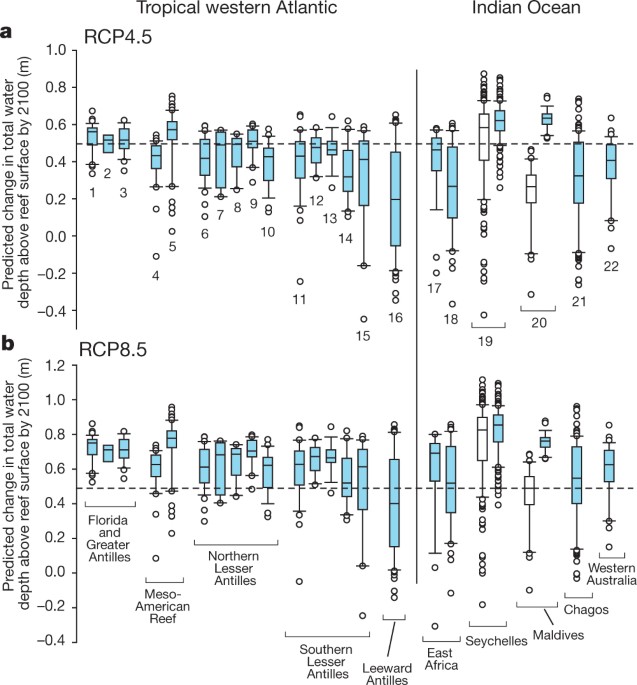 This is of critical concern because reefs play a key role as natural sea defences by limiting coastal wave energy exposure. The study concludes that efforts to tackle climate change must be coupled with careful management of fishing and water quality protection to prevent widespread submergence through this century.
the full paper is here:
Perry et al. (2018) Loss of coral reef growth capacity to track sea-level rise under climate change. Nature.
http://dx.doi.org/10.1038/s41586-018-0194-z
…and a more popular summary here: